BobutesPaskola
apply for a loan

gauti paskolą
FREE LOANS | FAST LOANS | LOANS FROM 18 YEARS | CAR LOANS | MORTGAGE LOANS | CONSUMER LOANS | SHORT-TERM LOANS | LONG-TERM LOANS

Suma: 50౼10000 EUR
Terminas: 3౼72 mėnesių
Palūkanos: 22.68౼136.27 % BVKKMN
Amžius: 18౼65 metai
Amount: 50౼10000 EUR
Term: 3౼72 months
Interest: 22.68౼136.27 % APR
Age: 18౼65 years
Pavyzdys: skolinantis 5000 €, sutartį sudarant 72 mėn. mėnesio įmoka – 121,55 €, MPN – 6,5 %, sutarties sudarymo mokestis – 0,75%, BVKKMN – 22,68 %, bendra vartojimo kredito gavėjo mokama suma – 8751,60 €. Paskolos internetu suteikiamos laikotarpiui nuo 3 iki 72 mėnesių. BVKKMN paskoloms, priklausomai nuo termino ir skolinimosi sumos- nuo 22,68% iki 136,27 %.
BobutesPaskola – Fast online loans for everyone's needs!
BnP Finance UAB has been operating in the financial sector for more than 10 years. The company's innovative approach has enabled the implementation of many innovative solutions over the years that have shown the technological path to overall market improvement. BnP Finance is a modern and professional company that uses its experience, knowledge and partnership to meet customer expectations.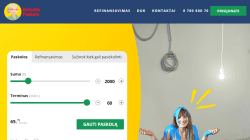 Always special offers for you! We sincerely take care of both new and existing customers, so we constantly offer many promotions and special offers. Reliable company: by listening and understanding our customers, we provide an opportunity to extend the loan repayment period and defer payment of the down payment. We ensure the confidentiality of each client. We are always ready to find a compromise and help each of our clients.

Phone: 8 700 800 70


Email: info@bobutespaskola.lt


Website: bobutespaskola.lt
Can I get multiple loans from other companies and apply to your company?
Yes, if there is no delay in the payment of these loans and if the amount of all your financial obligations per month does not exceed 40% of your monthly income.
Is it possible to increase the existing loan?
You cannot increase the size of an existing loan, but you can get an additional loan, a person can be given an unlimited number of loans up to 6,500 euros at a time.
How much does a loan renewal cost? How to extend the loan repayment period?
The commission for extending the loan repayment period is equal to the interest on the loan in the current month. When granting a loan, the complete loan repayment schedule is moved within 30 days. from the date of renewal. You can find out how to extend the loan in the section "Loan repayment" -> "Loan extension".
Are there any additional registration or contract fees?
The loan creation fee is 0.75% of the loan amount and is paid every month. The bank confirmation fee is only € 0.01. Registration confirmation is performed only once and only for new customers.

Views:
1387
More loans:
GoSavy , FjordBank , SMSpinigai , ManoPaskola , Vivus , Credit24 , FinBee , Paskolos , Creditea , Altero , Saldo , HipoCredit ,