Creditea
apply for a loan

gauti paskolą
FREE LOANS | FAST LOANS | LOANS FROM 18 YEARS | CAR LOANS | MORTGAGE LOANS | CONSUMER LOANS | SHORT-TERM LOANS | LONG-TERM LOANS

Suma: 100౼5000 EUR
Terminas: 3౼36 mėnesių
Palūkanos: 27.09 % BVKKMN
Amžius: 18౼75 metai
Amount: 100౼5000 EUR
Term: 3౼36 months
Interest: 27.09 % APR
Age: 18౼75 years
Pavyzdys: Suteiktą 500 € kredito limitą grąžinant per 36 mėn., fiksuota metinė palūkanų norma (MPN) – 23.88%, minimali mėnesio įmoka – 19.69 €, bendros vartojimo kredito kainos metinė norma (BVKKMN) – 27.09%, o bendra vartojimo kredito gavėjo mokama suma (BVKGMS) – 708.70€. Creditea taip pat siūlo paskolas nuo 100 iki 5 000 eurų nuo 3 iki 36 mėnesių.
Creditea – Transparent and secure line of credit!
Creditea offers everything you may need for your daily purchases. Simple, transparent and safe. Credit line up to €5,000 – for your needs. Creditea's financial services platform adapts to your daily needs and opportunities, so we offer flexible, secure and transparent solutions. A financial platform is not a buzz word that only comes to mind when you think about investing and buying stocks. It can be the basis of your daily life. Our practical thinking and customer trust help us to be leaders in FinTech.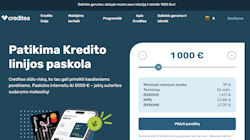 A line of credit is always available when you need it. Fill out the application for a line of credit as soon as you need it. You can pay for everything directly with your Creditea card or transfer your existing credit limit to your bank account. Pay only for the used part of the credit limit. Get a comprehensive overview of credit usage, payments and transactions. Tavo naujoji Mastercard debeto kortelė bus paruošta naudoti vos per kelias minutes. Tik nuo tavęs priklauso, kur ir kaip ją naudosi. Naudok Creditea debeto kortelę visame pasaulyje. Be jokių papildomų mokesčių. 3 mėnesiai nemokamai. Po to tik 3,95 €/mėn.

Phone: 8 700 80020


Email: info@creditea.lt


Website: creditea.com
How to use the credit line?
After concluding a credit line agreement, use the available credit limit at your own discretion: Pay with Creditea card (both in Lithuania and abroad). Withdraw money from an ATM. Transfer money to your bank account.
Is it necessary to have a Creditea payment card to use the credit line?
You can use the credit line without a Creditea card by transferring the available credit limit to your bank account.
What is the fee for using the card?
Using the card costs €0.00 per month.
What are the card limits?
Cash withdrawal 1000 euros per day / 5000 euros per month. When paying online 1000 euros per day / 5000 euros per month. When paying in physical stores 1000 euros per day / 5000 euros per month. The limit for one contactless payment is 50 euros.

Views:
206
More loans:
ManoPaskola , SMSpinigai , Altero , Credit24 , FjordBank , MokiLizingas , Saldo , FinBee , Vivus , Paskolos , BobutesPaskola , GoSavy , HipoCredit , TFBank ,