Ferratum
top five in rating
FREE LOANS | FAST LOANS | LOANS FROM 18 YEARS | CAR LOANS | MORTGAGE LOANS | CONSUMER LOANS | SHORT-TERM LOANS | LONG-TERM LOANS

Summa: 100౼5000 EUR
Periood: 3౼99 kuud
Aastaintress: 26.85౼45.93 % KKM
Vanus: alates 19 aastat
Amount: 100౼5000 EUR
Term: 3౼99 months
Interest: 26.85౼45.93 % APR
Age: from 19 years
Laenunäide: Krediidi kulukuse maksimaalne määr on 45,93% aastas järgmistel näidistingimustel: laenulimiit 2000 €, krediidi tagasimaksmiseks ja krediidi kogukulu kandmiseks tehtavate maksete kogusumma 2415,98 € (sisaldab lepingutasu 0 €) fikseeritud aastaintress 38.398%. Määr on arvestatud eeldusel, et laenulimiit võetakse kasutusele viivitamata ja täies mahus ning makstakse tagasi 12 võrdse tagasimaksena võrdsete ajavahemike järel alates kuu aja möödumisest laenulimiidi kasutusse võtmisest.
Ferratum – Credit limit up to 5000 €!
Our mission is to offer the consumer the best credit and good service. This mission is only possible by offering quick solutions while being transparent and guaranteeing customer privacy. Professionalism, profitability and clear ethics. Professionalism means constant learning, a clear model of action and the courage to take responsibility for your actions. Profitability is the result of speed, flexibility and growth.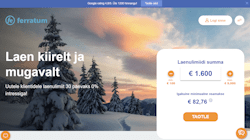 A credit limit is a flexible and convenient alternative to microloans. The amount of the credit limit is determined according to the financial capabilities of the client. The client always has the opportunity to take out a loan within the assigned limit amount. The received limit amount can be paid both all at once, and in parts with a 30-day interval. The minimum payment is 5% of the received loan amount together with accrued interest, but not less than 10 €. The daily interest of the credit limit is from 0.0658% of the remaining amount of the credit limit.

Phone: 6 652 420


Email: ferratum@ferratumbank.ee


Website: ferratum.ee
Granting a loan
Ferratum processes payments at any time. After confirming the loan with a confirmation code, Ferratum will transfer the money to your account within a few minutes. When the money is credited to the account depends on the processing time of your bank. Most banks receive money immediately.
How long does it take to get a loan?
You can apply for a loan at any time on our website. Our credit committee reviews loan applications during customer service hours and you will usually receive a response within an hour or two. If you apply for a loan outside of business hours, you will receive a response the next day. The loan decision will be emailed to you and if you receive a positive response, you will need to confirm the loan with a confirmation code. A confirmation code will be sent by email and you will need to enter it in self-service.
Who can apply for a loan?
The following persons can apply for a credit limit: those who have reached the age of 18 and are permanent residents of the Republic of Estonia. The maximum age for applying for a loan is also 70 years; which do not have active payments by default; to apply, you must have a personal email address and mobile phone number in Estonia.
How soon will I need to pay off the credit limit?
The credit limit does not have a specific payment schedule or fixed loan period, as you always have the option of withdrawing amounts within the limit or repaying larger amounts. Line of credit invoices will be sent monthly to your email address 14 days before the billing deadline. The invoice lists a minimum deposit of 5% of the total available amount plus interest. You can pay the minimum amount shown on your invoice or pay an amount that exceeds your planned contribution. If you pay off a larger amount, you can pay off the loan faster, pay less interest and have a shorter loan term. You can repay the entire loan amount at any time.

Views:
1038
More loans:
Mogo , CoopPank , SMSraha , Laen , Erahoius , Bondora , AriLaen , EestiHoius , Creditea , Primero , Raha24 , Credit24 , BoonusLaen , MiFundo , Altero , TFBank , Moneyzen , Clementer ,