Erahoius
campaign paused

active Estonian campaigns
FREE LOANS | FAST LOANS | LOANS FROM 18 YEARS | CAR LOANS | MORTGAGE LOANS | CONSUMER LOANS | SHORT-TERM LOANS | LONG-TERM LOANS

Summa: 1000౼500000 EUR
Periood: 12౼240 kuud
Aastaintress: 7౼12 %
Vanus: alates 18 aastat
Amount: 1000౼500000 EUR
Term: 12౼240 months
Interest: 7౼12 %
Age: from 18 years
Laenunäide: Enne teenuse kasutamist tutvu tingimustega ja konsulteeri asjatundjaga. 3000 € laenusumma puhul 3 aastaks, fikseeritud intressimääraga 9,9%, lepingutasuga 90 € igakuine annuiteetmakse 96,83 €, krediidi kulukuse määr 12,85 %, laenu tagasimaksete summa 3485,74 € ja laenu kogusumma 3575,74 €.
Erahoius – Financial cooperative!
Tallinna Hoiu-laenuühistu is a financial institution of a cooperative type (also called a savings and loan company, credit union or financial cooperative), which provides its members with financial services such as savings of money with interest (deposits), lending and other financial services. Tallinna Hoiu-laenuühistu was founded in 2010. The cooperative operates as a profitable institution throughout the territory of the Republic of Estonia.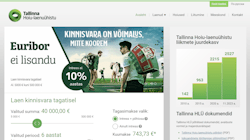 Tallinna Hoiu-laenuühistu aims to provide its members with profitable, high-quality and varied financial services. The members of the cooperative are both its owners and clients at the same time. Tallinna Hoiu-laenuühistu members participate in the management of the cooperative and supervise its activities themselves. The supreme governing body is the general meeting of the members of the cooperative. When making a decision, each member has one vote.

Phone: 662 0800


Email: info@erahoius.ee


Website: erahoius
Benefits of consumer loans:
Loan amount from 1000 € to 15000 €. Repayment period from 1 to 5 years. Interest rate from 9.9%.
Conditions for obtaining a consumer loan:
Borrower age from 18 years. Having a permanent income. Availability of an identity document. Completed consumer loan application. If necessary, a statement of your bank account.
Basic terms of a loan secured by real estate:
Both an individual and a legal entity can apply for a mortgage loan; Loan amount 5,000-500,000 euros; Repayment period up to 20 years with the possibility of its extension; Interest rate on interest from 7% per year; The pledge is an immovable property in respect of which a mortgage of the first priority is established; Loan amount up to 90% of the market value of the property; The costs of concluding a contract can be paid at the expense of the loan amount; Conclusion of a payment schedule in accordance with the client's wishes.

Views:
635
More loans:
PinCredit , SMScredit , Lande , CreditStar , Vordleja , SohoCredit , LatvijasHipoteka , SMSmoney , EcoCredit , Omaraha , inBank , Parkreditacija , Paskoliukas , AtraHipoteka , Vizia , Banknote , Monefit , Moneza , HercusKarte , Creditea , Finanza ,