EestiHoius
FREE LOANS | FAST LOANS | LOANS FROM 18 YEARS | CAR LOANS | MORTGAGE LOANS | CONSUMER LOANS | SHORT-TERM LOANS | LONG-TERM LOANS

Summa: 5000౼200000 EUR
Periood: 3౼180 kuud
Aastaintress: alates 12 %
Vanus: alates 18 aastat
Amount: 5000౼200000 EUR
Term: 3౼180 months
Interest: from 12 % per year
Age: from 18 years
Laenunäide: Laenu summa 35 000,00 €, Omafinantseering 15 000,00 €, Periood 180kuud, Intressimäär 12,00 %, Kuumakse 376,11 €. Finantseerimine kuni 70% kinnisvara soetamise summast, Summa kuni 150 000 eurot, Periood 1-15 aastat, Intress alates 12% aastas. Laenutaotluse positiivse vastuse puhul pannakse Teie käsutuses olevale kinnisvarale Ühistu kasuks hüpoteek, mis kustutatakse pärast laenu tagasimaksmist ja laenulepingu lõpetamist.
EestiHoius – Flexible loan terms!
Buying a home is an expensive undertaking that requires the buyer to have a large amount of money. Self-financing in this case is from 30% of the cost of the purchased housing, however, in the presence of additional collateral, Eesti Hoius (hereinafter the Company) is ready to lend to members of the society up to 100% of the required amount. To obtain a loan to an individual, a member of the Society, it is necessary to have a permanent place of work and income, which can be confirmed by providing a bank statement.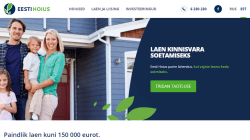 To determine the possible loan amount, you also need to take care of the availability of an appraisal report for the property being purchased and, if necessary, additional collateral. It is important that the act was drawn up no earlier than 3 months before the submission of the loan application. After consideration and confirmation of the loan application, a mortgage is established for the purchased housing in favor of the Company, which is repaid after the loan is repaid and the loan agreement expires.

Phone: 6 230 230


Email: info@eestihoius.ee


Website: eestihoius.ee
BUSINESS CREDIT
Business loan for the development of the enterprise. Enterprises have different plans and needs, flexible financing will solve your problems and allow you to remain competitive on the market!
LOAN FOR PURCHASE OF PROPERTY
Buying a home is an expensive undertaking that requires the buyer to have a large amount of money. A home loan can be considered as a solution to the problem of lack of funds for making a purchase. Flexible loan terms up to 150,000 euros.
LOAN AGAINST REAL ESTATE
A loan for the implementation of your goals! Embark on the journey of your dreams, renovate your home or buy a new car. The ability to refinance current loans.
CONSTRUCTION LOAN
Loan for real estate development projects. Fast and flexible non-bank financing for real estate development projects. Loan amount from 10,000 to 200,000 euros.

Views:
727
More loans:
MiFundo , SMSraha , AriLaen , Ferratum , Clementer , Mogo , Moneyzen , Laen , Bondora , BoonusLaen , Credit24 , TFBank , Erahoius , CoopPank , Primero , Altero , Creditea , Raha24 ,