Clementer
top five in rating
FREE LOANS | FAST LOANS | LOANS FROM 18 YEARS | CAR LOANS | MORTGAGE LOANS | CONSUMER LOANS | SHORT-TERM LOANS | LONG-TERM LOANS

Summa: 1000౼100000 EUR
Periood: 1౼120 kuud
Aastaintress: alates 10 %
Vanus: alates 18 aastat
Amount: 1000౼100000 EUR
Term: 1౼120 months
Interest: from 10 %
Age: from 18 years
Laenunäide: 20 000 euro laenamisel viieks aastaks, 60 igakuise annuiteetmaksega, fikseeritud intressimääraga 10% ja lepingutasuga 200 eurot, on krediidi kulukuse määr 10,95% (ei sisalda hüpoteegi seadmisega ja kindlustamisega seotud kulusid), igakuine laenumakse 424,94 eurot, laenu tagasimaksete summa 25 496,45 eurot ja laenu kogusumma 25 696,45 eurot.
Clementer – Loans secured by real estate!
Clementer OÜ is a company based on Estonian capital that offers its clients loans secured by real estate. Our reliable team offers you only the highest quality financial services. We have many years of experience in the Estonian financial services market, in particular in the field of investing and providing consumer loans.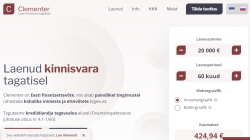 The goal of Clementer OÜ is to help clients on their way to their stable future. Our first priority is to work honestly and continuously with our clients. A high level of trust is ensured by the fact that the management of Clementer OÜ personally communicates with its customers. We will meet your financial needs on the most affordable and flexible terms.

Phone: 372 520 0282


Email: info@clementer.ee


Website: clementer.ee
Do you issue loans only secured by real estate?
Yes, we can accept as collateral: a house, part of a house, an apartment, agricultural land, forest land, land plots in Estonia with installed and connected communications. Clementer OÜ does not consider other forms of collateral.
How long to wait for a response to the application?
Clementer will contact you no later than the next business day after submitting the application.
When will the loan amount be transferred?
Payment of the loan amount takes place on the day of the conclusion of the mortgage agreement, as well as payment of notary services and state fees.
Can I get a loan if one mortgage has already been issued on the collateral?
Yes, Clementer OÜ also offers loans secured by a second mortgage. The decision to issue a loan depends on the market value of the collateral you offer, the mortgage you have and other obligations.
Is it possible to transfer the existing loans to you?
In the event that you have one or more agreements with different lenders, you can fulfill all your obligations to them at once by concluding an agreement with us on obtaining a loan secured by real estate.

Views:
670
More loans:
Laen , Raha24 , AriLaen , Mogo , Credit24 , Moneyzen , TFBank , Ferratum , Altero , Kreditex , SMSraha , BigBank , Primero , Creditea , BoonusLaen , Bondora , EestiHoius , CoopPank ,