Laen
FREE LOANS | FAST LOANS | LOANS FROM 18 YEARS | CAR LOANS | MORTGAGE LOANS | CONSUMER LOANS | SHORT-TERM LOANS | LONG-TERM LOANS

Summa: 200౼100000 EUR
Periood: 1౼180 kuud
Aastaintress: 9౼40 %
Vanus: alates 18 aastat
Amount: 200౼100000 EUR
Term: 1౼180 months
Interest: 9౼40 %
Age: from 18 years
Laenunäide: 1000 € laenamisel tähtajaga 50 kuud, fikseeritud intressimäär 18 %, krediidi kulukuse määr 19,75 %, lepingutasu 0 €, tagasimaksete summa 1387,75 € ja tarbija poolt makstav kogusumma 1387,75 €. Tulenevalt laenusumma suurusest ja laenuperioodi pikkusest võib aastane maksimaalne intressi määr olla 18 % kuni 40,00 %.
Laen – Loans on excellent terms!
Laen offers both private and business clients fast and profitable loans on excellent terms from the comfort of their homes. Laen loans are developed taking into account the extensive experience and wishes of our new and regular customers. No hidden fees, very clear contract terms and an easy way to apply for the loan you need.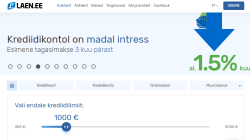 A credit account is a very popular solution among our clients. An application for a credit account is submitted only once. From a credit account, you can transfer money to your bank account at a convenient time for you. Interest is charged only from the used amount. At the moment, having a credit account, you can combine it with a credit card. When registering a credit account, simply choose what you want to receive and the card.

Phone: 6630110


Email: -


Website: laen.ee
How quickly will I receive a loan?
If you are a regular customer, then in case of a positive response from the commission, the money will be credited to your account within a few minutes. If you are a new client and you need to go through the identity verification procedure, the money will be credited to your account within an hour after the identity verification.
Can I get a loan if my details are in the debt register (Maksehäireregister)?
If your data is in the Maksehäireregister, then we cannot offer you financial services.
Additional loan with existing Laen loan
Yes, you can apply for a new loan. To do this, you need to go to self-service on our home page and submit an application. Our experts will consider your application. Each client has a personal credit limit. The amount of the limit is set by the credit committee, based on the calculation of the client's income and expenses, and the client's payment history is also taken into account. There may be several loans on the Laen.ee portal at the same time, but a new agreement is drawn up for each of them. When returning loans, it should be borne in mind that each loan has separate details.
I was denied
Each loan application is reviewed by the credit committee on an individual basis. There can be several reasons for refusing a loan. Several of the possible reasons for refusing a loan: Your data is in the debt register (Krediidiinfo AS); The commission cannot offer a loan based on your income; You have many financial obligations; Age limit (18-70 years old).
Received a positive response, did not receive money
Perhaps you have not fulfilled all the requirements of the commission. Please contact us so that we can find the reason for the delay as soon as possible.

Views:
33
More loans:
Monefit , BoonusLaen , Vordleja , Kreditex , Moneyzen , Bondora , inBank , AriLaen , EestiHoius , TFBank , Altero , CoopPank , Erahoius , CreditStar , SMSraha , BigBank , Credit24 , Raha24 , Ferratum , SMSmoney ,