Creditea
FREE LOANS | FAST LOANS | LOANS FROM 18 YEARS | CAR LOANS | MORTGAGE LOANS | CONSUMER LOANS | SHORT-TERM LOANS | LONG-TERM LOANS

Summa: 100౼5000 EUR
Periood: 1౼60 kuud
Aastaintress: 27.24౼45.93 % KKM
Vanus: alates 18 aastat
Amount: 100౼5000 EUR
Term: 1౼60 months
Interest: 27.24౼45.93 % APR
Age: from 18 years
Laenunäide: Creditea krediidikonto (krediidiliin) krediidi kulukuse määr (KKM) on 27.24% aastas (maksimum KKM/max 45.93%) järgmistel näidistingimustel: 1000 € kreiidilimiidi kasutamisel fikseerimata aastaintressiga 24% on igakuiste maksete kogusumma 1135 € ja tagasimaksete summa 1135 €. Eeldusel, et krediidilimiit võetakse kasutusele kohe ja täies mahus ning makstakse tagasi 1 aasta jooksul 12 võrdse tagasimaksena.
Creditea – Transparent and secure credit account.
You can conveniently link your credit account to your Creditea card and your home bank. No more waiting for money and filling out a new loan application every time. All you need is the Creditea app, which is always ready to use. Use a credit account with your Creditea card. If there is not enough money in your payment account, you can use the credit as needed by paying directly by card. In addition, you can always transfer money directly to your bank account.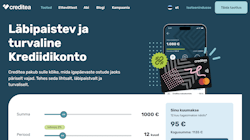 Transparent and secure credit account. All in one place. Finally, you have complete visibility and control over your finances. Check your account balance, expenses, debts and payments to save on interest. Use your credit account around the clock without having to transfer money to your home bank.

Phone: 6119090


Email: info@creditea.ee


Website: creditea.com
How much does it cost to use a credit account?
There is no monthly fee for opening and using an account. In the case of a credit account, interest is charged only on the amount used.
How to use your own credit account?
Activate the credit account and use it as you wish: Pay with Creditea card (both in Estonia and abroad); Withdraw money from an ATM; Make a payment to your home bank account.
Why was my credit account application rejected?
The information provided in the application is incorrect. The information provided in the application was incomplete. Applicant has an active late payment.
What are the consequences of being late?
If the invoice remains unpaid, this is a breach of contract. In case of late payment of the invoice, the withdrawal of funds from the credit account is limited. In the event of an overdue invoice, the creditor may demand late payment under the Interest Act, as well as reminders and fees under the Debt Collection Act.

Views:
206
More loans:
Ferratum , CoopPank , Bondora , Primero , Laen , Clementer , EestiHoius , AriLaen , MiFundo , Mogo , Altero , SMSraha , Kreditex , Raha24 , BigBank , Credit24 , BoonusLaen , Moneyzen , TFBank ,