CoopPank
top five in rating
FREE LOANS | FAST LOANS | LOANS FROM 18 YEARS | CAR LOANS | MORTGAGE LOANS | CONSUMER LOANS | SHORT-TERM LOANS | LONG-TERM LOANS

Summa: 300౼25000 EUR
Periood: 6౼120 kuud
Aastaintress: alates 7.9 %
Vanus: 18౼75 aastat
Amount: 300౼25000 EUR
Term: 6౼120 months
Interest: from 7.9 % per year
Age: 18౼75 years
Laenunäide: Väikelaenu krediidi kulukuse määr on 22,78% aastas järgmistel näidistingimustel: laenusumma 2250 €, lepinguperiood 36 kuud, tagasimaksete arv 36, fikseeritud intressimäär aastas 17,9% arvestatuna laenujäägilt, lepingutasu 45 €, igakuine haldustasu 1,5 €, igakuine osamakse 82,73 €, krediidi kogusumma 3023,28 € ja tagasimaksete summa 2978,28 €. Fikseeritud aastane intress alates 7,9% laenujäägilt.
CoopPank – Money the same day!
In life, it could more often happen like this: I wanted something – and this is what I got. With Coop Pank, it's real. You can use a small loan exactly as it suits you. No guarantee is required, and you will receive an answer to your application almost immediately! The loan amount is transferred to the account with Coop Pank on the same business day. If you are not yet a Coop Pank customer, open an account online.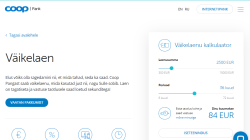 It is easy to fill out an application, and you will receive an offer in just a few seconds. The money will be transferred to your account no later than the next business day. The application can be submitted around the clock on the Internet or at the nearest bank office. Personal identification can be easily done through a computer or mobile phone. Our staff will always help you find the best solution to make your wishes come true.

Phone: 669 0966


Email: klienditugi@cooppank.ee


Website: cooppank.ee
Requirements for the applicant
Estonian citizen aged 21 and over. By the end of the crediting period, the loan recipient cannot be older than 75 years. Monthly income starting from 280 €. No violations of payment discipline. The maximum loan amount depends on your income and obligations. If necessary, we will ask for an account statement. We accept statements for the last 6 months with a digital signature of the bank (in bdoc, asice format), which contain information about all income and expenses, you can download it through your Internet bank.
Loan insurance
When concluding a small loan agreement, the beneficiary can also conclude an insurance payment agreement in order to benefit from the insurance coverage from If Kindlustus. Small loan insurance is useful in the following cases: Your illness or accident has resulted in disability; You have lost your job; You are temporarily out of work because you or your child are ill. In the event of the death of the recipient of the loan, the insurance will cover the balance of the loan, so that the heirs will not owe anything to the lender.
Repayment of a credit
Every month we will issue an electronic invoice, which will be sent to your Internet bank. It will be automatically sent to the bank where the loan amount was transferred. For more convenient payment, we recommend signing a standing order agreement by electronic invoice.
Submission of an application and execution of a contract
The contract can be digitally signed using an ID-card, Smart-ID or Mobile-ID. Personal identification may be required to issue a loan. This can be done conveniently by means of a computer or mobile phone, at a Coop Pank office or at a Coop store. For personal identification, an identity document (ID-card, passport or driver's license) is required.

Views:
1005
More loans:
SMSraha , Primero , BigBank , AriLaen , Raha24 , BoonusLaen , Creditea , Moneyzen , Mogo , MiFundo , TFBank , EestiHoius , Laen , Clementer , Altero , Kreditex , Ferratum , Bondora , Credit24 ,