Raha24
FREE LOANS | FAST LOANS | LOANS FROM 18 YEARS | CAR LOANS | MORTGAGE LOANS | CONSUMER LOANS | SHORT-TERM LOANS | LONG-TERM LOANS

Summa: 100౼5000 EUR
Periood: 5౼60 kuud
Aastaintress: 27.24౼45.89 % KKM
Vanus: alates 18 aastat
Amount: 100౼5000 EUR
Term: 5౼60 months
Interest: 27.24౼45.89 % APR
Age: from 18 years
Laenunäide: 500 euro laenamisel 30 kuuks fikseeritud intressimääraga 31,99% aastas on krediidi kulukuse määr 45,89% aastas, lepingutasu 45 eurot, tagasimaksete summa 753,60 eurot (30 tagasimakset) ja makstav kogusumma 798,60 eurot. Ilma pangakonto väljavõtteta on võimalik laenu taotleda siis kui annad loa automaatseks päringuks oma sissetulekute kohta läbi e-MTA. Krediidi kulukuse määr 27,24% kuni 45,89%.
Raha24 – Unsecured loan up to 5,000 euros!
Speed is our goal and the main reason why customers prefer us. We value the time of our clients and therefore we do our best to communicate between us as efficiently and quickly as possible. Fast order fulfillment process. We do not ask you unnecessary questions – only those that are necessary for us to draw up the best loan offer for you. In case of a positive decision on the loan, we will immediately send the money to your bank account.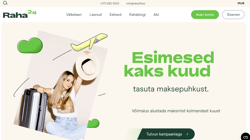 We are flexible in dealing with clients and follow the principle that we never leave our clients alone with problems. If you are having financial problems, contact our credit consultant and we will find the best solution together with you. If necessary, we offer a free paid vacation of up to 6 months. This will give you time to get your finances in order.

Phone: 662 0502


Email: info@raha24.ee


Website: raha24.ee
How much can I apply for?
You can apply for a loan within the limits of your credit limit, but not more than 5,000 euros. If your credit limit is less than € 5,000, you can apply for an increase in your credit limit in the user environment.
Can I apply for an existing loan?
Yes, we also offer an additional loan service. You can apply for an additional loan within your credit limit and you can apply in the custom environment. In the case of a supplementary loan, the principal of the existing loan and interest for the used time are recorded in the new agreement.
How can I repay the loan?
You have two return options. First, you can conveniently and quickly make a refund through the user environment by selecting the link to the appropriate bank. The payment enters our system immediately, and if necessary, you can submit a new loan application. Secondly, you can make a standard payment via your internet bank using the details indicated on the invoice.
Can I repay the loan ahead of schedule?
Yes. To repay the loan ahead of schedule, you need to log into your credit account and select "Early repayment" from the menu.
What should I do if I have difficulty paying?
In case of difficulties with payment, we recommend contacting our personal loan consultant.

Views:
1063
More loans:
Ferratum , MiFundo , Erahoius , Credit24 , EestiHoius , Laen , SMSraha , Mogo , BoonusLaen , AriLaen , Primero , Moneyzen , TFBank , CoopPank , Bondora , Creditea , Altero , Clementer ,