Credit24
apply for a loan

saņemt kredītu
FREE LOANS | FAST LOANS | LOANS FROM 18 YEARS | CAR LOANS | MORTGAGE LOANS | CONSUMER LOANS | SHORT-TERM LOANS | LONG-TERM LOANS

Summa: 400౼7000 EUR
Termiņš: 2౼60 mēneši
Likme: 19.86౼51.98 % GPL
Vecums: 18౼70 gadi
Amount: 400౼7000 EUR
Term: 2౼60 months
Interest: 19.86౼51.98 % APR
Age: 18౼70 years
Piemērs: Aizņemoties 500 EUR ar atmaksas termiņu 60 mēneši un 60 maksājumiem ar iespējami zemāko aizņēmuma likmi gadā 18.00%, gada procentu likme 19.86%, minimālais mēneša maksājums 12.78 €, kopējā atmaksājamā summa 761.80 EUR. Credit24 minimālā GPL likme ir 19.86% / maksimālā GPL likme ir 51.98%.
Credit24 – Quick and Easy Solution!
Credit24 offers individuals get a quick short-term loan without collateral. Credit24 loan is provided for unforeseen and urgent expenses, provided that the borrower has a regular income, the amount of which helps cover the loan. Fill out an application for a loan Credit24, select the amount, return policy and within 15 minutes you will receive an amount of 100 to 5000 EUR.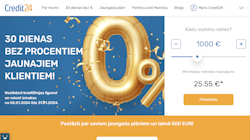 Quick loan with an interest rate of individual, specially designed for you. Loan without commission for issuance and no registration fee. Friendly and completely transparent – only paid the principal and interest. Choose for yourself a comfortable repayment period of 1 to 60 months and is paid in the form of equal monthly payments.

Phone: 8824


Email: info@credit24.lv


Website: credit24.lv
Can I close the loan before the deadline?
Loan payment, you can generate and return before the deadline, as well as to return the entire loan amount at once.
If I can not make a payment within the specified period, can I renew it?
We do not offer the possibility of extension. Repayment of the loan must be in accordance with the schedule of repayment of the loan.
How to apply for a loan?
Apply for a loan can be on our home page, in the largest branches of Latvijas Pasts or stores Maxima XX and XXX. If the application is filled in the VAS Latvijas Pasts, with a need to take a valid passport or an electronic identity card (eID) and need to know your account number. At the post office you can take our application form you must fill out and send mail operator. If the application is filled in the store Maxima, with a need to take a valid passport or an electronic identity card (eID) and need to know your account number. The application can be submitted at the information center. If you want to get a loan online, you only need to fill out the application form.
Can I apply for an additional amount?
In Credit24 can be active only one loan, as well as increase the available amount of the credit can not be. When the current loan will be repaid in full, you can apply for a new loan. In order to use the opportunity to receive an additional amount, you can select a service credit line.
What to do if the company agreed to submit the debt collection?
If the delay exceeds the maximum payment period, the contract is transferred to a debt collection company, which is authorized to perform all actions that are associated with the return of the debt (including debt collection, drafting of a new repayment schedule, accrual of penalties and so on). If your contract transferred to a debt collection company, you should contact the company that administers your debt, you should specify the amount and arrange its return.

Views:
14603
More loans:
Creditus , Finea , LKCentrs , NordLizings , SavaCard , Sefinance , SMScredit , Ferratum , AvaFin , Vizia , Bino , Altero , Soso , Vivus , eLizings , ViaSMS , Banknote , Ondo , Finlo , ViaCredit , HipoCredit , LatKredits , KSPlatforma , SosCredit ,