Finlo
apply for a loan

saņemt kredītu
FREE LOANS | FAST LOANS | LOANS FROM 18 YEARS | CAR LOANS | MORTGAGE LOANS | CONSUMER LOANS | SHORT-TERM LOANS | LONG-TERM LOANS

Summa: 1000౼1000000 EUR
Termiņš: 3౼180 mēneši
Likme: no 9 % gadā,
Vecums: 18౼65 gadi
Amount: 1000౼1000000 EUR
Term: 3౼180 months
Interest: from 9 % per year
Age: 18౼65 years
Hipotekārais kredīts ir piemērots risinājums ikvienam, kam Latvijā pieder nekustamais īpašums. Tas ir ilgtermiņa aizdevums, kas tiek nodrošināts ar nekustamā īpašuma ķīlu. Kredīts tiek piešķirts līdz pat 75% apmērā no ķīlas tirgus vērtības un tiek izsniegts personām, kuru maksātspēja to ļauj, un kuras sasniegušas vismaz 18 gadu vecumu.
Finlo – A modern approach to issuing loans.
Finlo line of business is issuing loans secured by real estate. Representatives of the company work quickly and efficiently, delving into every situation. Understanding the wishes and needs of clients, we have developed the application and credit assessment procedure as convenient and suitable for the client as possible.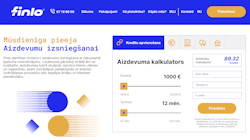 We will consider the application within one working day. We will coordinate the payment according to your wishes and possibilities. No extra bureaucracy. Fill out an application and receive an offer by e-mail. Confirm the contract with an electronic signature or receive it by courier. Get a loan to your account and send it to the planned goals.

Phone: 67199608


Email: info@finlo.lv


Website: finlo.lv
Mortgage Loan
This is a long-term loan secured by real estate. The loan is issued up to 75% of the market value of the collateral.
Business Loan
For working capital, the purchase of working materials / equipment for existing or future entrepreneurs, for the start of business.
Construction Loan
A construction loan is mainly a suitable solution for builders and companies, but it is also not uncommon for households to choose this type of loan.
Credit to Farmers
For working capital, the purchase or repair of equipment, the purchase of raw materials by farms.
Credit Consolidation
Consolidation of loans saves time and money, since the payment will be made to one lender in the future. To receive an offer, fill out an application.

Views:
418
More loans:
Bino , Ondo , Soso , ViaCredit , SMScredit , eLizings , ViaSMS , NordLizings , Altero , Finea , HipoCredit , LKCentrs , SosCredit , Credit24 , SavaCard , Ferratum , Vizia , Banknote , KSPlatforma , Vivus , LatKredits , AvaFin , Creditus , Sefinance ,