LatKredits
the top five
apply for a loan

saņemt kredītu
FREE LOANS | FAST LOANS | LOANS FROM 18 YEARS | CAR LOANS | MORTGAGE LOANS | CONSUMER LOANS | SHORT-TERM LOANS | LONG-TERM LOANS

Summa: 1000౼100000 EUR
Termiņš: 3౼180 mēneši
Likme: no 6.9 %
Vecums: 18౼75 gadi
Amount: 1000౼100000 EUR
Term: 3౼180 months
Interest: from 6.9 %
Age: 18౼75 years
Piemērs: Patēriņa aizdevums 3000 EUR uz 48 mēnešiem, ikmēneša maksa 71.10 EUR, Procentu likme sākot no 6,9% gadā, Auto aizdevums 3000 EUR uz 48 mēnešiem, ikmēneša maksa 67.07 EUR, Procentu likme sākot no 2% gadā, Kredīta pieteikuma izskatīšana notiek 30 minūšu laikā.
LatKredits – Quality Loan Services!
Company financial decision LatKredits offers all types of loans, unification of loans, buying real estate, and other extras. We want to give you the opportunity to realize their goals today! LatKredits – Quality services, favorable conditions, individual approach, experienced professionals! Наша команда LatKredits Our team consists of high-level professionals with extensive experience in matters of lending and real estate buying and selling.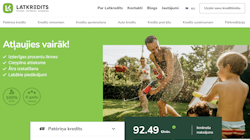 Our mission is to provide an opportunity for the residents of Latvia to receive all types of loans in one place with the lowest possible rates% and better conditions, so we are motivated to provide you with the highest quality lending services throughout the territory of Latvia.

Phone: 29027027


Email: info@latkredits.lv


Website: www.latkredits.lv
Fill out an application
The first steps towards the loan is filling out an application. This is necessary so that we can evaluate your chances to get a loan and were able to find a suitable offer for you. Fill in the application form available on our website, or at our office.
Get suggestions
Our specialist will contact you as soon as the application will be reviewed and drafted the proposal. Depending on the type of loan application review may last from 10 minutes to 2 days.
Sign an agreement
If the offer terms of the loan and you meet, you will need to come to our office and sign a contract. For more information about this process will tell you our expert.
Get money
The speed of getting money will depend on the type of loan you selected. For example, in the case of consumer credit, the money will go to your account within 20 minutes. This information may check with our specialist.
WHY US?
If you want to save time (and do not look for the most advantageous offer on their own), money (not overpaying% rate), to obtain the most favorable conditions, fill in the form! Professional credit manager will do everything for you!

Views:
16643
More loans:
LKCentrs , SMScredit , Sefinance , Bino , ViaSMS , eLizings , HipoCredit , LatvijasHipoteka , SosCredit , Altero , NordLizings , Credit24 , Lande , KSPlatforma , Ondo , ViaCredit , Banknote , SavaCard , Vizia , Creditus , Vivus , Ferratum , CreamCredit ,