Primero
FREE LOANS | FAST LOANS | LOANS FROM 18 YEARS | CAR LOANS | MORTGAGE LOANS | CONSUMER LOANS | SHORT-TERM LOANS | LONG-TERM LOANS

Summa: 2000౼25000 EUR
Periood: 6౼84 kuud
Aastaintress: 12.11౼30.74 % KKM
Vanus: 18౼75 aastat
Amount: 2000౼25000 EUR
Term: 6౼84 months
Interest: 12.11౼30.74 % APR
Age: 18౼75 years
Laenunäide: laenusummaga 5000 eurot, tähtajaga 5 aastaks, lepingutasuga 5%, aastase intressiga 9,9%, on krediidi kulukuse määr 12,36%, igakuine laenu tagasimakse 97 eurot ning laenu tagasimakse summa kokku 6 983,72 eurot.
Primero – Freedom to move!
Primero Finance OÜ is a part of the international company Eleving Group, which was founded in 2012. Today, the Eleving Group has developed into a strong player internationally – in 2020 and 2021, the Financial Times recognized the Eleving Group as one of the fastest growing companies in Europe. Our deep desire is to give you the freedom and independence that is one of the most important values ​​in today's fast-changing world.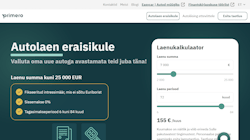 The name Primero comes from Spanish and means leadership and encouragement. These concepts also represent the core values ​​of our company, which are ambition, courage, energy and freedom of movement. Our goal is to use these values ​​in our daily work as well as in customer communication as a way to always provide our customers with a reliable and friendly service. In our daily work, we are committed to helping you eliminate the worries of buying a car and making the whole process an enjoyable and smooth journey with first-class service.

Phone: 372 6988444


Email: info@primero.ee


Website: primero.ee
Freedom to move!
Have you found a new or used vehicle you desire, but lack sufficient funds to buy one? We will help you acquire the vehicle of your dreams to conquer the roads you want to discover. Primero offers car loans on flexible terms. The annual interest rate is from 9.9% of the loan balance. Apply for a Primero car loan from 2000 to 25,000 euros, for a term from 6 to 84 months.
Primero car loan terms
Primero car loan on favorable terms for you! No down payment is required and you can apply for a loan from 2000 to 25,000 euros with a payment term of six months to 84 months. You can apply easily online. The fee for concluding the agreement is 5% of the loan amount. The interest rate starts from 9.99% per annum and we calculate the interest on the loan balance. The reduction of the loan principal is free of charge.

Views:
485
More loans:
Mogo , Moneyzen , MiFundo , BoonusLaen , AriLaen , Bondora , EestiHoius , Ferratum , Credit24 , CoopPank , BigBank , Altero , Clementer , SMSraha , Laen , Creditea , TFBank , Kreditex , Raha24 ,