SMSpinigai
apply for a loan

gauti paskolą
FREE LOANS | FAST LOANS | LOANS FROM 18 YEARS | CAR LOANS | MORTGAGE LOANS | CONSUMER LOANS | SHORT-TERM LOANS | LONG-TERM LOANS

Suma: 100౼100000 EUR
Terminas: 3౼120 mėnesių
Palūkanos: 21.99౼59.95 % BVKKMN
Amžius: nuo 19 metai
Amount: 100౼100000 EUR
Term: 3౼120 months
Interest: 21.99౼59.95 % APR
Age: from 19 years
Pavyzdys: jei pasiskolintumėte 1000 € 24 mėn. su fiksuotąja metų palūkanų norma 3,67 %, tai bendra vartojimo kredito gavėjo mokama suma būtų 1218,74 €, mėnesio įmoka – 50,78 €, mėnesio administravimo mokestis – 7,50 €, bendros vartojimo kredito kainos metinė norma – 21,99 %, sutarties sudarymo mokestis – 0 €. Priklausomai nuo kredito sumos, termino ir metų palūkanų dydžio bendros vartojimo kredito kainos metinė norma gali būti nuo 21,99% iki 59,95 %.
SMSpinigai – Loans on excellent terms!
Any loan can be obtained quickly, sitting comfortably on the couch, using only the phone. Convenient and fast self-service and a simple application form. Money in your account today! Smspinigai loans are created based on our extensive experience and the wishes of new and returning customers. No hidden fees, very clear contract terms and an easy way to apply for the loan you need.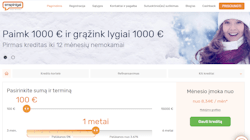 We are supporters of thoughtful and responsible lending! Therefore, we advise you to first evaluate loan offers on the market, and only then make a final decision. We are confident that we can offer you the most profitable method of financing, and our cooperation with you will be mutually beneficial and long-term. To view special discounts and personalized offers for you, visit the Special Offers section.

Phone: 8 527 40040


Email: info@nordecum.lt


Website: smspinigai.lt
Credit card
Buy and earn together? Easily! With a Nordecum credit card, you will not only be able to conveniently make purchases in regular and online stores, withdraw money and pay in modern and contactless ways, but also get a unique opportunity to earn 2% of your purchases right now.
Credit refinancing
Do you have several different lenders? We will combine their loans into one, i.e. we will refinance your existing financial liabilities. Thus, you can reduce the monthly payment, provide a favorable interest rate and pay only once a month. We can refinance loans up to EUR 10,000.
Fast loan
Do you need a small amount of money for a short period of time? With unforeseen and unplanned expenses, a quick loan is an easy way to get the right amount in a short time. The main advantages of a quick loan are the ease of applying and receiving money in the account in a few minutes.
Consumer loan
A universal small unsecured loan for the purchase of a car or a trip, modernization of household appliances or repairs. You can call this loan differently: a car loan, a health loan or even a repair loan – the essence is the same – a consumer loan is a certain amount of money to meet your needs or cover expenses.

Views:
54
More loans:
Altero , MokiLizingas , Paskolos , SMScredit , PinCredit , BobutesPaskola , FinBee , GoSavy , EcoCredit , ManoPaskola , FjordBank , TFBank , HipoCredit , Vivus ,