GoSavy
top five in rating
apply for a loan

gauti paskolą
FREE LOANS | FAST LOANS | LOANS FROM 18 YEARS | CAR LOANS | MORTGAGE LOANS | CONSUMER LOANS | SHORT-TERM LOANS | LONG-TERM LOANS

Suma: 300౼30000 EUR
Terminas: 3౼120 mėnesių
Palūkanos: 12.33౼48.05 % BVKKMN
Amžius: nuo 18 metai
Amount: 3300౼30000 EUR
Term: 3౼120 months
Interest: 12.33౼48.05 % APR
Age: from 18 years
Pavyzdys: skolinantis 300 EUR, sutartį sudarant 24 mėn. terminui, fiksuotoji metinė palūkanų norma — 5%, tarpininkavimo mokestis 4.7%, mėnesinis tarpininkavimo mokestis 0.29%, BVKKMN (bendroji vartojimo kredito kainos metinė norma) — 17.49%, eilinės mėnesio įmokos suma — 14.03 EUR, Jums pervedama paskolos suma — 300 EUR, visa grąžinama paskolos suma — 350.82 EUR.
GoSavy – Mutual lending platform!
SAVY is the first peer-to-peer (P2P) lending platform in Lithuania. We provide an opportunity to borrow and lend money directly from each other. We are proud to offer human loans at lower interest rates for those looking to borrow and for those looking for guaranteed income – responsible credit risk assessment.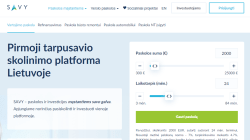 SAVY is a co-financing loan with extremely flexible terms for borrowers and guaranteed return on investment for investors. It is a form of borrowing in which people lend to people or businesses. SAVY's work is based on a technology platform that brings loan applicants and investors together and regulates the borrowing process that takes place between users of the platform – registered investors and those seeking a loan.

Phone: +370 5272 0151


Email: labas@savy.lt


Website: gosavy.com
Consumer loan
Upgrade your home, improve your lifestyle, take care of your health, travel, study or achieve other goals with SAVY.
Refinancing Loans
When refinancing an existing bank, credit union or quick loan commitments – pay lower interest rates, extend the loan maturity if necessary, borrow extra and pay lower monthly payments.
Home renovation loan
Renovate your home, upgrade your interior, buy new furniture or appliances, install solar panels or upgrade your home with SAVY.
Loan for the purchase of real estate
Buy a manor house, country house or other inexpensive real estate with SAVY.
Car loan
Buy a new or used car without collateral and KASKO insurance. Improve your daily routine with SAVY.
Loan for treatment and healthcare
Take care of your health and the health of your loved ones, use the wellness services with SAVY.

Views:
1187
More loans:
Paskolos , Saldo , BobutesPaskola , ManoPaskola , Credit24 , FinBee , Creditea , FjordBank , SMSpinigai , Altero , Vivus , HipoCredit ,