BigBank
FREE LOANS | FAST LOANS | LOANS FROM 18 YEARS | CAR LOANS | MORTGAGE LOANS | CONSUMER LOANS | SHORT-TERM LOANS | LONG-TERM LOANS

Summa: 500౼25000 EUR
Periood: 6౼120 kuud
Aastaintress: 6.9౼19.9 %
Vanus: 20౼73 aastat
Amount: 500౼25000 EUR
Term: 6౼120 months
Interest: 6.9౼19.9 %
Age: 20౼73 years
Laenunäide: Näiteks 2200-eurose laenusumma puhul viieks aastaks fikseeritud intressiga 13,8%, lepingutasuga 0€ ja igakuise haldustasuga 1,5 eurot on krediidi kulukuse määr 16,84%, igakuine laenu tagasimakse 53,51 eurot, laenu tagasimaksete summa 3090,88 eurot ning Sinu poolt makstav kogusumma 3210,28 eurot. Laenu maksimaalne krediidikulukuse määr on 60%.
BigBank – Flexible consumer loan!
We have been operating in Estonia for a quarter of a century and have been a licensed credit institution for more than ten years. We can proudly say that 90% of our clients are satisfied with the quality of our services, and 80% of our clients think that our offers are interesting and profitable. Our goal is to offer you great services and the best customer experience. Guided by these goals, our team will continue its constant development in the future.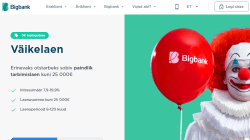 Bigbank offers guaranteed best small loan offers. Our goal is loans with the best overall value on the market. To get the guaranteed best offer, please fill in the Bigbank loan application and attach the necessary documents to it. A Bigbank loan specialist will contact you to draw up an offer. In the case of a small loan, we do not limit the possibilities of using the loan – you can even finance your hobbies.

Phone: +372 731 1333


Email: info@bigbank.ee


Website: bigbank.ee
How quickly will I receive a response to my application?
If you have submitted an application via Internet Banking, the initial response may be received within a few minutes, depending on the type of loan. The final answer will be sent to you within the next working day after receiving all the documents necessary for consideration of the application (including account statements, photos of real estate, etc.).
How quickly will the loan amount be credited to my account?
The loan amount is transferred to the client's account, as a rule, within 3-6 business days after signing all the necessary agreements (including collateral agreements).
What happens if I can no longer repay the loan?
Regardless of the reasons for payment difficulties, we always want to meet the client's needs, offering him the most flexible and profitable solution to overcome payment difficulties. For example, you can take a pay leave or extend your pay period, which will result in a decrease in your monthly installment.
Can I repay the loan ahead of schedule?
Of course, the loan can be repaid ahead of schedule. To do this, you need to contact Bigbank.
Can I get a loan for a friend?
We rely on the principle of responsible lending, according to which the borrower applies for a loan exclusively for personal use. Therefore, if your friend wants to take out a loan, he must fill out and submit the loan application himself.

Views:
45
More loans:
EestiHoius , Altero , Ferratum , inBank , Raha24 , CreditStar , Monefit , Bondora , Moneyzen , SMSraha , Erahoius , CoopPank , SMSmoney , Credit24 , Vordleja , TFBank , AriLaen , Kreditex , BoonusLaen , Laen ,