SMSmoney
campaign paused

active Estonian campaigns
FREE LOANS | FAST LOANS | LOANS FROM 18 YEARS | CAR LOANS | MORTGAGE LOANS | CONSUMER LOANS | SHORT-TERM LOANS | LONG-TERM LOANS

Summa: 200౼100000 EUR
Periood: 1౼180 kuud
Aastaintress: 9౼40 %
Vanus: alates 18 aastat
Amount: 200౼100000 EUR
Term: 1౼180 months
Interest: 9౼40 %
Age: from 18 years
Laenunäide: 1000 € laenamisel tähtajaga 50 kuud, fikseeritud intressimäär 18 %, krediidi kulukuse määr 19,75 %, lepingutasu 0 €, tagasimaksete summa 1387,75 € ja tarbija poolt makstav kogusumma 1387,75 €. Tulenevalt laenusumma suurusest ja laenuperioodi pikkusest võib aastane maksimaalne intressi määr olla 18 % kuni 40,00 %.
SMSmoney – Convenience in financial matters!
Have you thought about a quick loan and immediately remembered about Smsmoney? No wonder, since Smsmoney is undoubtedly the most popular lender in Estonia. What makes us a permanent leader in the fast loans market? Favorable conditions, as well as the speed and ease of obtaining loans. We value our regular customers, therefore we also have various discounts for them, the possibility of a deferral, as well as an additional loan.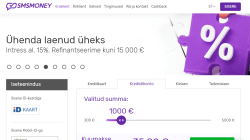 Personal loan without collateral. A consumer loan can help finance large purchases, cover daily expenses or deal with unexpected expenses. Such a loan can, for example, be used to purchase household appliances or furniture, repair a car or apartment, vacation, pay for medical treatment, study, etc. You can apply for a consumer loan on our website.

Phone: 6630110


Email: -


Website: smsmoney
How can I get a loan?
To obtain a loan, you must submit an application in self-service. If necessary, in the case of applications submitted through the home page, our specialist will contact you and explain the next steps.
How quickly will I receive a loan?
If you are a regular customer, then in case of a positive response from the commission, the money will be credited to your account within a few minutes. If you are a new client and you need to go through the identity verification procedure at the post office, the money will be credited to your account within an hour after the identity confirmation.
What time are applications considered?
Applications are considered on weekdays from 8.00 to 20.00, on weekends and public holidays from 9.00 to 21.00. Applications are accepted around the clock. The application can also be made at our Tallinn office on weekdays from 8.00 to 20.00, on weekends and public holidays from 10.00 to 20.00.
I was denied
Each loan application is reviewed by the credit committee on an individual basis. There may be several reasons for refusing a loan. Several of the possible reasons for refusing a loan: Your data is in the debt register (Krediidiinfo AS); The commission cannot offer a loan based on your income; You have many financial obligations; Age limit (18-70 years old).

Views:
715
More loans:
Lande , TFBank , EcoCredit , HercusKarte , Finanza , Vordleja , Paskoliukas , LatvijasHipoteka , inBank , SMScredit , Parkreditacija , CreditStar , Creditea , SohoCredit , PinCredit , Omaraha , Erahoius , Monefit , AtraHipoteka , Moneza ,