Vordleja
campaign paused

active Estonian campaigns
FREE LOANS | FAST LOANS | LOANS FROM 18 YEARS | CAR LOANS | MORTGAGE LOANS | CONSUMER LOANS | SHORT-TERM LOANS | LONG-TERM LOANS

Summa: 1000౼15000 EUR
Periood: 3౼84 kuud
Aastaintress: 19.5౼65.22 % KKM
Vanus: alates 18 aastat
Amount: 1000౼15000 EUR
Term: 3౼84 months
Interest: 19.5౼65.22 % APR
Age: from 18 years
Laenunäide: (tegelik personaalne pakkumine sõltub kliendi krediidivõimekusest) 5 000€ laenu puhul viieks aastaks fikseeritud intressiga 15,9%, lepingutasuga 0€ ja igakuise laenuhaldustasuga 2,9€ on krediidi kulukuse määr 18,37%, tarbija poolt makstav kogusumma ja laenu tagasimaksete summa 7 453,49€. Võrdle laenupakkumiste tingimusi ja vali soodsaim laen!
Vordleja – Compare loan terms!
Compare loan offers and save money. We do not give preference to any of our partner banks. We forward applications to all banks that request it. We want you to be able to compare offers and choose the most suitable one both in terms of the loan amount and other conditions. Our experience shows that the more offers you receive, the lower the suggested average interest rate will be.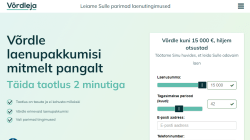 In our opinion, all borrowers have the right to receive clear, transparent and comparable information. See for yourself how easy it is to compare loan offers. Complete one free application and see what they offer you. We receive commissions from banks if we find a suitable loan client for them. The commission depends on the loan amount, not interest, so choosing a more expensive loan is not in our interests.

Phone: 602 6797


Email: klienditeenindus@vordleja.ee


Website: vordleja
How is the loan interest rate determined?
Each lender processes applications individually and submits an offer in accordance with their loan terms. When the bank calculates the interest rate, it is done based on the client's application and credit rating. Unfortunately, we do not have the ability to predict or influence the terms and interest rates offered by lenders.
How much can I borrow?
Currently on our website you can apply for a loan in the amount of 1,000 to 15,000 euros. The extent to which the lender is really ready to offer a loan depends on his assessment of the client's solvency, depending on the specific situation. Banks also often offer different loan products, the terms and amounts of which may differ.
How long does it take for money to be credited to my account?
The bank will consider the application before its completion, as soon as all the necessary confirmations and additional documents are received and approved. Loan processing times may vary from bank to bank, but money is usually deposited into your account within hours to several business days (business days).
Can I repay the loan faster than agreed?
You can make additional payments or pay off the entire loan faster than agreed. As a rule, there are no additional costs and you pay interest only for the period during which the loan was issued.
What is a loan solution?
With a loan decision, lenders confirm whether they want to lend or not. Financial companies make customer relationship decisions based on the information received from the applicant and its analysis. The decision on the loan can be either positive or negative. Lenders can decide positively, but reduce the amount of the proposed loan compared to the application, or shorten the requested repayment period.

Views:
643
More loans:
Moneza , Finanza , AtraHipoteka , Omaraha , Creditea , LatvijasHipoteka , BigBank , SohoCredit , Lande , Kreditex , HercusKarte , SMScredit , CreditStar , EcoCredit , TFBank , Parkreditacija , Paskoliukas , Monefit , inBank , MokiLizingas , PinCredit , SMSmoney ,