Finanza
campaign paused

active Latvian campaigns
FREE LOANS | FAST LOANS | LOANS FROM 18 YEARS | CAR LOANS | MORTGAGE LOANS | CONSUMER LOANS | SHORT-TERM LOANS | LONG-TERM LOANS

Summa: 100౼1500 EUR
Termiņš: 3౼48 mēneši
Likme: 43.41౼51.10 % GPL
Vecums: 20౼70 gadi
Amount: 100౼1500 EUR
Term: 3౼48 months
Interest: 43.41౼51.10 % APR
Age: 20౼70 years
Piemērs: Aizņemoties 300 EUR uz min termiņu 3 mēneši vai max termiņu 12 mēn, komisijas maksa min 19,02 EUR un max 72,60 EUR, aizņēmuma likme min 36,6% un max 42%, GPL min 43,41% un max 51,1%, kopējā atmaksājamā summa min 319,02 EUR un max 372,60 EUR, ja tiek ievēroti līguma noteikumi.
Finanza – Fast loans every day!
If you can repay the loan in full Finanza to maturity, then the second time, you can take up to 1500 EUR. If you can not repay the loan on time, you have the option to defer loan payments for up to 30 days. Simply list the amount of extension of credit to the account Finanza On successful payment made, Finanza inform you by sending an SMS message, and you can verify this in your profile.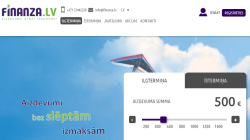 Once you have issued a request for a loan from your profile, list registration payment and enter the confirmation code, we will consider your request within a few minutes. About his decision, we will let you know by sending an SMS message to a registered phone number, and immediately transfer the credit to your account.

Phone: 25442220


info@finanza.lv


Website: finanza
Who can take a loan in the SIA Finanza?
The loan is available to people: who are citizens and non-citizens of Latvia or persons permanently residing in the Republic of Latvia, and having a residence permit; aged 20 to 70 years; with the declared address of the residence; permanent connection mobile phone number; open to any bank in Latvia's current account; for persons with a clean credit history, no delay other loan payments.
How long will I receive an answer to loan application?
Your application will be reviewed within approximately half an hour, and the decision will be sent as a message to the specified mobile phone number to you.
How long should I wait until I get the money to your bank account?
In case of a positive response within 20-30 minutes you get the money to your bank account, but only if it is in the bank Swedbank, SEB, DNB or Citadele. If your bank account is in another bank transfer can take from one to three days. But bear in mind that the actual speed of the transfer depends on each bank individually.
What to do if I can not pay the loan within the specified period?
In this case, you have the opportunity to extend the payment period of the loan is 7, 14 or 30 days, listing fee renewal for the bank account number SIA "Finanza".
Why refused to provide the loan?
The loan may be denied in the following situations: Do you have any other time has not made loan commitments, or delay payments; during registration given erroneous data; not repaid previous loans in Finanza.

Views:
11432
More loans:
Erahoius , SohoCredit , Vordleja , Moneza , CreditStar , PinCredit , SMScredit , Creditea , EcoCredit , inBank , Lande , Paskoliukas , Banknote , LatvijasHipoteka , Parkreditacija , Monefit , Omaraha , Vizia , SMSmoney , AtraHipoteka , HercusKarte ,