SMScredit
apply for a loan

gauti paskolą
FREE LOANS | FAST LOANS | LOANS FROM 18 YEARS | CAR LOANS | MORTGAGE LOANS | CONSUMER LOANS | SHORT-TERM LOANS | LONG-TERM LOANS

Suma: 100౼750 EUR
Terminas: 14౼30 dienų
Palūkanos: 0౼74.98 %
Amžius: 18౼70 metai
Amount: 100౼750 EUR
Term: 14౼30 days
Interest: 0౼74.98 %
Age: 18౼70 years
Pavyzdys: bendra vartojimo kredito suma – 100,00 EUR, visa palūkanų suma – 6,16 EUR, administracinis mokestis – 1,20 EUR, metinė palūkanų norma – 74,95%, sutarties terminas – 30 dienų; bendra kredito gavėjo mokama suma – 107,36 EUR, bendros vartojimo kredito kainos metinė norma (BVKKMN) – 137,3%. Pirmam suteiktam Kreditui iki 300 EUR, palūkanos neskaičiuojamos.
SMScredit – First loan without interest!
UAB Credit Service, which manages the SMScredit system, is a company focused on long-term cooperation with each client. Therefore, the company's employees always try to find a mutually beneficial solution with each client. Taking care of the convenience of customers, the system is being improved technically, the wishes and needs of customers are being investigated, the possibilities of the services offered are expanding.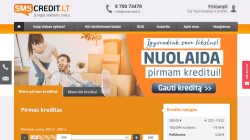 The Borrower has the right to extend the loan and interest repayment period by 1 (one) month in accordance with the instructions indicated on the website or in the invoice issued by the Lender. Upon the expiry of the Loan and Interest Extension Period, the Borrower may, at its discretion, either repay the Loan and pay interest, or re-extend the Loan and Interest Period in accordance with the same procedure and conditions.

Phone: 8 700 73470


Email: info@smscredit.lt


Website: smscredit.lt
Can I get several loans from SMScredit at the same time?
Unfortunately, in SMScredit you cannot have several loans at the same time. However, if you have not used up your credit limit, you can apply for an additional amount.
How much loan can I take?
The credit limit for each SMScredit client is set individually. You can find out your credit limit by logging into your profile or by registering.
How long will it take for the loan to be transferred to my bank account?
If your account is with SEB bank, Citadele bankas, Šiauli bankas or Medicinos bankas, in case of a positive answer, you will receive a loan within 10-20 minutes after receiving the application. If your account is with another bank, the loan transfer may take up to 1-2 days from the date of receipt of the application.
What do you need to get a loan from SMScredit?
To get an instant loan: Must be a natural person between the ages of 18 and 70, permanently residing in Lithuania; You need to have a bank account in Lithuania, an active connection with a mobile phone and email. mailing address; Have a stable source of income.
What documents are required to obtain a loan?
All you need to do is have a mobile phone, a bank account in a bank in Lithuania and an email address. When filling out an application at PayPost offices, you must have a passport or ID.

Views:
45
More loans:
PinCredit , Paskolos , HipoCredit , FjordBank , GoSavy , SMSpinigai , BobutesPaskola , Vivus , TFBank , MokiLizingas , FinBee , Altero , EcoCredit , ManoPaskola ,