Paskoliukas
campaign paused

active Lithuanian campaigns
FREE LOANS | FAST LOANS | LOANS FROM 18 YEARS | CAR LOANS | MORTGAGE LOANS | CONSUMER LOANS | SHORT-TERM LOANS | LONG-TERM LOANS

Suma: 100౼3000 EUR
Terminas: 3౼36 mėnesių
Palūkanos: 59.65౼100.83 % BVKMN
Amžius: 18౼65 metai
Amount: 100౼3000 EUR
Term: 3౼36 months
Interest: 59.65౼100.83 % APR
Age: 18౼65 years
Pavyzdys: Kredito suma 800 EUR, terminas 6 mėnesių, metinė palūkanų norma (MPN) 46.37 %, bendra vartojimo kredito kainos metinė norma (BVKKMN) 80,05%, Kredito kaina: 147.58 €, Turėsi grąžinti: 947.58 €. Mėnesio įmoka iki nuolaidos – 162.52 €, mėnesio įmoka su nuolaida – 157.93 €.
Paskoliukas – Flexible choice of loan conditions!
By paying off or renewing your loan on time, you are behaving financially, which will greatly enhance our trust in you. In the future, we will try to be the first to offer the best offers to financially responsible clients. You can postpone the date of payment of the first installment for up to 2 months. All you have to do is select the date of the first payment when you receive the loan. You can extend the loan or turn a short-term loan into a long-term one.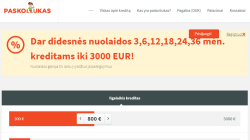 If you are unable to repay the loan on time, you can extend the repayment period. Pay the cost of the loan, interest and fine (if the repayment period has expired). Apply for a loan extension after the deposit is credited. When submitting an application, fill out the declaration of solvency and familiarize yourself in detail with the draft amendment to the terms of the Agreement. After assessing your solvency, we will let you know if you can extend the maturity or if you need to repay the loan.

Phone: +370 690 30997


Email: info@paskoliukas.lt


Website: paskoliukas
Who can get a loan?
A loan can be obtained by an individual who: is a citizen of the Republic of Lithuania and has a valid identity document, works or receives other fixed income, has a personal account in a Lithuanian bank, has an active connection with a mobile phone and email, has no overdue obligations. We do not provide loans to those working abroad.
Can I have several loans from Paskoliukas at the same time?
Yes, if you meet the status of a borrower in the Paskoliukas.lt system, you can be provided with several loans at the same time.
Do I have to mortgage property or have a guarantor to get a loan?
No, to receive a loan from Paskoliukas you do not need to mortgage property or have a guarantor.
Can I repay the loan earlier?
Yes. You can repay the loan early, but you must notify the ARN team at least five days in advance of the expected repayment date.

Views:
42