inBank
FREE LOANS | FAST LOANS | LOANS FROM 18 YEARS | CAR LOANS | MORTGAGE LOANS | CONSUMER LOANS | SHORT-TERM LOANS | LONG-TERM LOANS

Summa: 300౼25000 EUR
Periood: 6౼72 kuud
Aastaintress: alates 5.9 %
Vanus: alates 21 aastat
Amount: 300౼25000 EUR
Term: 6౼72 months
Interest: from 5.9 %
Age: from 21 years
Laenunäide: 2000,00 €, laenuperiood 60 kuud, kuumakse 46.73 €, Intressimäär 10.9% kuni 23.9% arvestatuna laenujäägilt, Lepingutasu 2% laenusummast, minimaalselt 35 eurot, Lepingu haldustasu 2.50 eurot kuus, mis sisaldub kuumakses. Laenusumma mida saame Sinule pakkuda, sõltub Sinu igakuisest sissetulekust ja kohustustest.
inBank – Affordable consumer finance!
Inbank is an Estonian bank offering consumer finance and deposit services both in Estonia and in neighboring countries. We have in our asset modern digital solutions that we are ready to offer exactly where they are most demanded by our customers. Today the bank successfully services about 690 thousand client agreements in four different countries.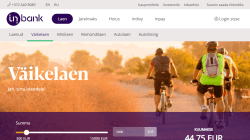 We are dedicated to success and finding new opportunities. We value performance, feedback and are ready to turn failure into achievement. We encourage independent thinking and the willingness to step out of your comfort zone. We value professionalism, attention to detail and the ability to put ideas into practice. In our team of specialists, every member is important.

Phone: +372 640 8080


Email: info@inbank.ee


Website: inbank.ee
Who can apply for a small loan?
A small loan can be applied for by persons who are at least 21 years of age, who are Estonian citizens or have a residence permit in the Republic of Estonia, observe payment discipline, and have a monthly income of at least 280 euros.
Do I need to submit documents to the bank on what the loan is spent on?
You have the right to dispose of Inbank small loan at your own discretion. Inbank does not require the provision of documentary evidence or other information about the use of the loan.
How quickly can I get an answer to my loan application?
Usually, we give an answer to an application submitted through the website or to a bank office immediately. And if the answer is yes – you can immediately conclude a loan agreement. Sometimes, for some reason, we cannot make a decision immediately and ask the applicant to submit a bank statement for the last 6 months, certified by a digital signature. After receiving such a statement, we will give an answer to the application within one working day.
How long will it take for the money to be credited to my account?
The money will be credited to a bank account in Estonia within one business day after the conclusion of the contract and the authentication of the identity of the borrower. Depending on the bank in which your current account is located, the money will be credited to it on the same or the next banking day after their transfer.
What if I cannot repay the loan?
Regardless of the reasons for payment difficulties, Inbank is always ready to meet its customers halfway and offer them the most flexible solution possible. Therefore, we ask you to immediately notify us of any difficulties with chargebacks. You can, for example, take a leave of absence or extend the loan period to pay back smaller monthly amounts.

Views:
23
More loans:
Laen , Bondora , CreditStar , SMSmoney , Raha24 , TFBank , AriLaen , Credit24 , Ferratum , CoopPank , BoonusLaen , Erahoius , SMSraha , EestiHoius , Moneyzen , Vordleja , BigBank , Altero , Kreditex , Monefit ,